RAM 2500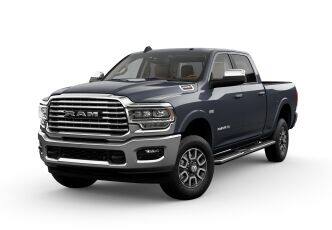 Silverado 2500
2021 RAM 2500 Vs. 2021 Silverado 2500 Near Broken Bow, OK
In the world of heavy-duty pickup trucks, there are good options, and there are incredible options. While you cannot go wrong with a 2021 Silverado 2500, treat yourself by checking out the 2021 RAM 2500. Do not let the Ram truck's lower price tag confuse you – it is significantly better than any other vehicle in its class. Not only is the ride smooth and the interior plush, but it has some of the most powerful engine options available. That translates to unmatched towing and hauling capabilities. With a five-star interior, the 2021 RAM 2500 still manages to have semi-truck-like muscle.
Once you have read how the two pickup trucks compare, please visit us at Jay Hodge Dodge Chrysler Jeep Ram near Broken Bow, OK. We have excellent heavy-duty options and are sure to have something to suit your lifestyle.
Interior Comparison
Both full-size pickups come in a variety of cabin configurations, depending on your needs. That also means the quality and interior specifications vary widely. There are some Ram 2500 and Silverado 2500 options that are difficult to compare. That said, whether you opt for Ram 2500 with the single cab or the Mega Cab (which has the most passenger room in the pickup truck lineup), you will have a much more luxurious interior than with the Silverado 2500.
The 2021 Ram 2500 Longhorn is the best of the best. It comes with wood and gold trim on the dashboard, doors, and gauges. The layout of the interior is also exceedingly clean and modern. You will also be happy to note that the center console is big enough to serve as a 15-inch laptop desk.
The infotainment in the Ram 2500 is also detail-oriented. There is muffling glass and noise cancellation technology to make for the quietest heavy pickup truck. Even on the diesel version, the engine noise is safely left outside. With an 8.0- or 12.0-inch touchscreen, you can control your navigation, Apple smartphone, or Android smartphone. You can also subscribe to in-cabin Wi-Fi, which can be crucial in many work scenarios. The 2021 Ram 2500 also comes with several USB ports and multiple 115-volt outlets. You will never find yourself driving back home to Broken Bow, OK, when your tools die.
Performance Comparison
The 2021 Ram 2500 comes with three dutiful engines. A 410-horsepower, 6.4-liter V8 moves the basic Ram 2500 with 429 pound-feet of torque. This engine and the standard eight-speed automatic are the only options on the Ram 2500 Power Wagon, which also only comes in four-wheel drive. Every other Ram 2500 has an optional diesel with either rear- or four-wheel drive.
The diesel engine in the Ram 2500 is a 6.7-liter inline-six that can make 370 ponies and 850 pound-feet of twist. Because the diesel engine is so heavy, it slows the truck down so you can tow more weight.
The Ram 2500 pulls up to 19,010 pounds when properly equipped, more than the Silverado. It also can carry more in its bed.
Safety Features Comparison
Look for the following features in the 2021 Ram 2500 (some are available in the Silverado 2500 as well):
Forward-collision warning.
Blind-spot monitoring.
Adaptive cruise control.
Find the 2021 RAM 2500 Near Broken Bow, OK
If you need more convincing of the 2021 Ram 2500, please visit us at Jay Hodge Dodge Chrysler Jeep Ram near Broken Bow, OK. You can test drive one of these dependable pickups today, which is the best way to determine if it is the right car for you.